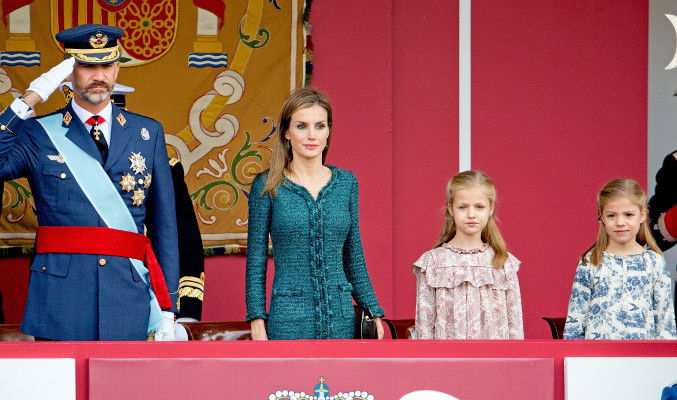 QUEEN Letizia and the newly crowned King Felipe VI attended the military parade in Madrid on Sunday October 12, marking Spain's National Day.
The Queen, dressed in a dark teal tweed dress and matching shoes, held both her daughters' hands as she watched the military procession. The princesses both wore floral dresses and sported neatly braided hair.
Husband and father, King Felipe VI, 46, joined his wife and two daughters, Princess Leonor and Princess Sofia, for the occasion, dressed in smart, traditional military attire complete with sash, hat and gloves.
The national holiday, which commemorates the arrival of Christopher Columbus's first arrival in America, has been celebrated since 2000, and is also known as Day of the Armed forces.
The day, which is honoured by a military parade, typically features a display of the Spanish Air Force's aerobatics team and, unusually a goat, which is marched in front of the tribune, as the official La Legion's mascot.
National Day in Spain is held annually every October 12 and invites are extended to officials and foreign diplomats as well as representatives of Spain's autonomous governments.