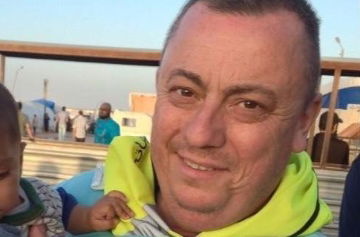 UPDATE: Jihad John executioner, Murders Henning
Alan Henning's killer, who speaks with a British accent and who is believed to be the man responsible for previous beheadings, has made a direct statement to the Prime Minister of the United Kingdom – 
JJ said :"The blood of David Haines was on your hands, Cameron. Alan Henning will also be slaughtered, but his blood is on the hands of the British Parliament." 
Using innocent British lives to send a message of retaliation if not war needs direct resolution and address …. The English speaking people wait, the British people wait, UK Government with their allies now need to stand united and respond. How many more victims, how many more executions, how many more innocents.
 IS release video of alleged beheading of aid worker Alan Henning.
Barbara Henning, Alan's wife has made numerous pleas to IS asking for the safe return of her husband.  Mrs Hennings pleas were echoed as British Muslims then followed by making a written plea for his release.
Alan Henning volunteered to drive an ambulance full of medical aid as part of a community-funded charity trip organised by volunteers from Bolton and the UK Arab Society.
It is believed he was abducted by IS in Al Dana, a town 38km (24 miles) from Aleppo.
The video of the alleged murder is yet to be authenticated.
Story develops …