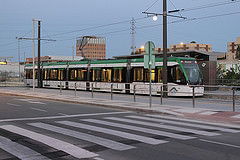 THE Malaga Metro is still being used by a slightly lower amount of people than required to meet the original expectation of 2.4 million users for the year.
According to information provided by Development Delegate Manuel Garcia, since July 30 when free journeys were offered, up until September 17, approximately 577,000 people have used the underground train.
This gives an average of 11,500 users whereas the responsible company, Metro Malaga and the Junta de Andalucia (Regional Government), had predicted 16,000 daily users. Once the 50,000 free trips from the first day are deducted, the average falls to approximately 10,500.
The provincial government notes that the month of August is a traditionally quiet month for transport. All eyes are on October, when Malaga University will begin classes. It is hoped that once classes start in Teatinos and the surrounding areas the number of passengers may reach 16,000 a day.
In any case, these five months are considered a transition period compared to 2015, which the Ministry of Development estimates will see approximately five million passengers. This would be an average of around 13,700 per day.
The Ministry of Development spokesman said during the presentation of the activities in Malaga for European Mobility Week that considering the summer "is not the best time," numbers show that the Metro is gaining users who no longer use private vehicles and this is a positive sign.
Future Metro works have been recommenced, with lines due to open at the end of 2016 and 2017.