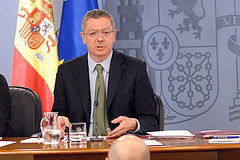 SPANISH Minister of Justice Alberto Ruiz Gallardon tendered his resignation on Tuesday (September 23) and said he would retire from politics altogether.
"After 30 years in politics I am leaving. My life is now outside of politics," said the veteran politician during a press conference. Gallardon was the President of the Community of Madrid between 1995 and 2003 and Mayor of Madrid from 2003 until 2011.
His decision comes merely hours after President Mariano Rajoy announced that the proposed abortion reform would be shelved because it had failed to garner the necessary consensus to be given the green light.
Not only had the contentious abortion bill been the source of an internal split in the conservative and Christian democratic party, but it also aroused severe criticism from opposition leaders, who said it represented a 30-year step back in terms of abortion legislation.
Even if some had expected him to hand in his resignation after the Cabinet did not authorise the bill by the deadline he had himself set, his decision still came as a big shock to political analysts, especially because he is also to give up his seat in Congress and step down from all positions within the PP.
Gallardon gave his heartfelt thanks to his party for their ongoing support and presented an apology to any member of the opposition who may have taken offence to any comments he made during his political career.
If passed, the proposed abortion bill would have created serious obstacles to pregnancy terminations in the case of accredited foetal deformities.