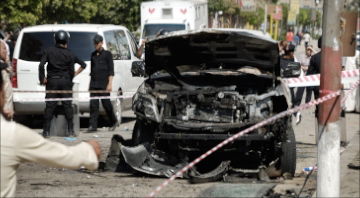 TWO police officers have been killed in a car bombing in Cairo.
The blast, outside the foreign ministry in Cairo, was targeted at a police checkpoint and said to be the most serious in three months.
Seven people have been wounded in the blast, the attack appears to resemble other attacks carried out by Islamist insurgents, seeking to overthrow the US backed government.
Since Islamic State militants have seized parts of Iraq and Syria, other militant groups have formed along Egypt's borders adjoining Libya. It is believed that Islamic State has been coaching Egypt's most dangerous militant organisations.
Although the death toll was low, the attack in the capital city has cast shadow over the security forces.