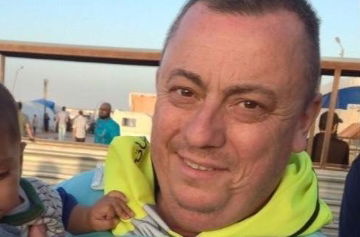 BARBARA HENNING, the wife of the British aid volunteer has issued a plea to the Islamic State for the release of her husband.
The statement, issued through the Foreign Office, said: "I am Barbara Henning the wife of Alan Henning. Alan was taken prisoner last December and is being held by the Islamic State.
"Alan is a peaceful, selfless man who left his family and his job as a taxi driver in the UK to drive in a convoy all the way to Syria with his Muslim colleagues and friends to help those most in need.
"When he was taken he was driving an ambulance full of food and water to be handed out to anyone in need.
"His purpose for being there was no more and no less. This was an act of sheer compassion.
"I cannot see how it could assist any state's cause to allow the world to see a man like Alan dying.
"I have been trying to communicate with the Islamic State and the people holding Alan. I have sent some really important messages but they have not been responded to.
"I pray that the people holding Alan respond to my messages and contact me before it is too late.
"When they hear this message I implore the people of Islamic State to see it in their hearts to release my husband Alan Henning."
This is the first time since December, when Alan Henning was captured, that the family have publically made any statement.