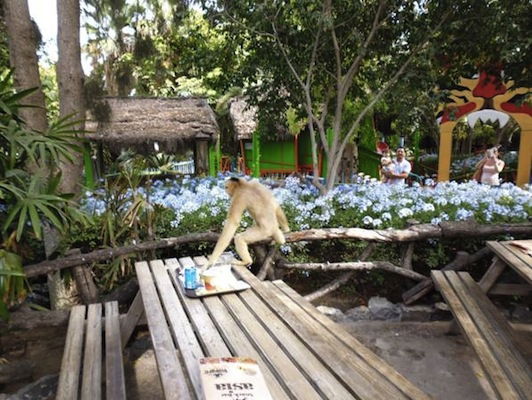 ZOOKEEPERS at the Bioparc Zoo, Fuengirola are on the hunt for an ice cream thief, believed to live inside the compound.
The perpetrator, who was caught on camera refuses to admit to the offences committed over the last few days and appears unruffled by her crimes.
She is suspected of stealing an ice cream from a young visitor at the zoo, who trustingly left it outside of the rest rooms for a few minutes whilst he used the toilet facilities.
Staff later witnessed what they believe was the same ice-cream, being eaten, 50ft high amongst the trees. To add insult to injury, the primate rascal promptly went back for more, returning to take a hotdog from another poor victim.
Although the police have not been called, there is a fruitful reward for her capture!!