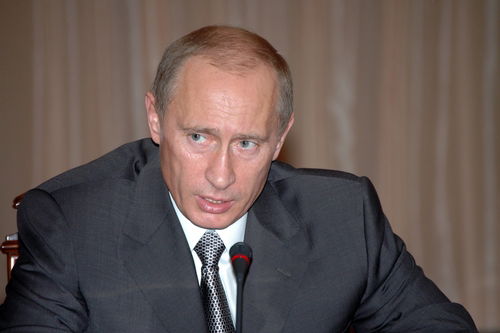 UKRAINE has accused Russia of orchestrating more military incursions over the border; a day after Vladimir Putin and Ukrainian president Petro Poroshenko met for talks.
Tuesday's talks in Minsk were attended by the two premiers as well as EU officials and heads of state from neighbouring countries.
Putin and Poroshenko spoke for two hours behind closed doors before bringing the presidents of Belarus and Kazakhstan to the table for a broader discussion. Results did not appear to be fruitful, however, with both leaders coming away with a different impression of why the talks were held.
President Petro Poroshenko was keen to discuss a peace plan to the conflict currently raging in Eastern Ukraine between the military and pro-Russian rebel forces. He also appeared to push for tighter border controls after Russian troops were found to have crossed into Ukrainian territory on various occasions.
Putin, for his part, insisted that the meeting was centred on economic cooperation, and that any talks of peace should be between the Ukraine and the separatists without Russian involvement.
He said: "We did not discuss this matter substantively. Frankly speaking, we cannot discuss any conditions for a ceasefire or possible agreements between Kiev, Donetsk and Luhansk. This is not our business; it is a domestic matter of Ukraine itself."
By his words, however, it appears that Putin is turning a blind eye towards alleged Russian military action in the East. Amid reports of military convoys crossing the border, and secret funerals being held for Russian servicemen killed fighting in Ukraine, it remains unclear as to just how involved Russia is in the conflict.
Russian soldiers were caught earlier this week before being paraded before the media in the capital Kiev. Russia maintains that the soldiers had strayed over the border by mistake.
Ukrainian military spokesman Andriy Lysenko, speaking on Wednesday about the incident, said: "Five armoured infantry carriers and one Kamaz truck entered Amvrosiyivka with men in them.
"If this tactical group got lost and accidentally came into Ukraine like the paratroops of the 98th paratroop division, then it remains for us to remind them that they can return to Russia, taking an easterly direction."
This latest incident has provoked serious anxiety among ordinary Russians, who have now demanded to know whether they are at war or not.
The Russian newspaper Vedomosti has said that it is the government's responsibility to explain the official position on the Ukraine question. 
The discrepancies between Russian rhetoric and action have led some to question what the future may hold.