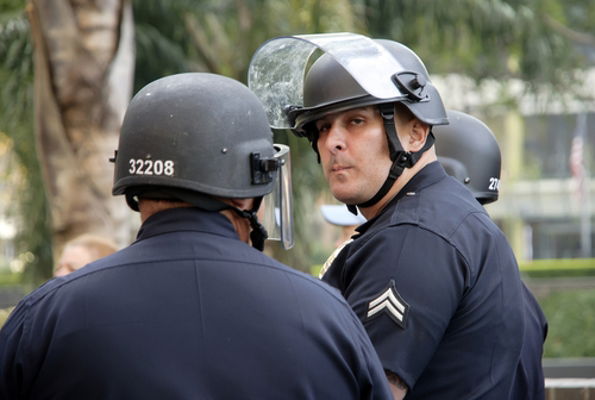 POLICE in Ferguson, Missouri, have once again launched teargas at protestors who continue to demonstrate a week after unarmed Michael Brown, aged 18, was shot dead by an officer.
Around 200 people ignored a police-imposed curfew on Saturday night, after a state of emergency was declared by Jay Nixon, Governor of the State of Missouri, in response to the violent clashes between demonstrators and authorities. The curfew was imposed from midnight until 5am Sunday morning.  
Congregating on the town's main street to chants of 'No justice, no curfew,' the protestors were met by dozens of riot police who were waiting at the other end of the street.
Governor Nixon's decision to impose a curfew marks another change to his seesawing reaction to the crisis, which started out as aggressive and militarised, before changing to a more grass-roots and community-centred approach earlier on the week. This latest move suggests that once again Missouri's law enforcement officers are gearing up to meet the demonstrators with an iron fist.
Nixon, a Democrat, has justified the move after a small group of looters smashed windows and raided three shops on Friday evening, sabotaging, in Nixon's view, the community's right to peaceful protest. 
Missouri state highway patrol has been in charge of policing the protests since Thursday when the responsibility was taken away from St Louis County Police force, in an attempt to please activists who felt the county was dealing in a far too heavy-handed manner with the protestors.
Captain Ron Johnson, during a press conference, denied that the curfew would see a return to aggressive police tactics. He said: "We won't enforce it with tanks. We won't enforce it with teargas."
Community leaders have for the most part welcomed the move, although some residents feel that the curfew could plunge the neighbourhood once again into full-blown unrest.