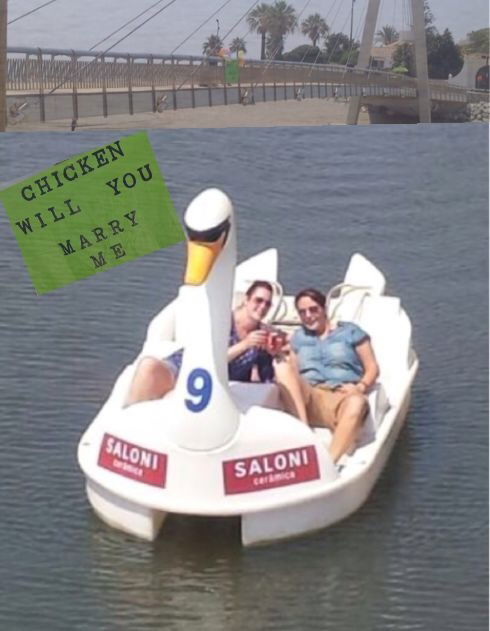 A BRITISH couple holidaying in Fuengirola ruffled a few feathers with a funny proposal of marriage whilst enjoying a Swan boat ride by Fuengirola Castle this week.
Nicki Lawes, visiting her mother who lives on the Costa, was joined by Emma, her partner of 2 and a half years, on Thursday evening for a 2 week holiday. On their first day together the love birds went for a ride on the swan pedal boats close to Fuengirola castle with a surprise in the waiting for Emma whose pet name is 'Chicken'.
Nicki had secretly booked the Swan vessel, prepared a sign and rallied family and friends to be on an over-looking bridge as the love birds swanned along the outlet. Approaching the bridge Emma was encouraged to look up where she saw a large green sign with black writing 'CHICKEN WILL YOU MARRY ME'.
Overwhelmed and in a flutter of exciting tears Emma plucked up the courage to say 'Yes'. To feather the nest and seal the deal Nikki presented Emma with a Haribo engagement ring, topping the ring with a Haribo friend egg. When asked why the Haribo ring Nikki told EuroWeekly News "she always said if we ever get married, Emm's wanted a Haribo engagement ring, but we are going off to pick a proper ring this week."
Shoppers and people passing by noticed the sign being displayed. Intrigued, they hovered around wanting to know if Emma would accept. Shouting down toward the boat as it neared the bridge "what did she say" both Nicki and Emma gave the thumbs up to the onlookers where Nikki then hatched open a hidden bottle of pink champagne to celebrate their engagement.
The couple are considering setting up their love nest on the Costa and plan to marry next year.