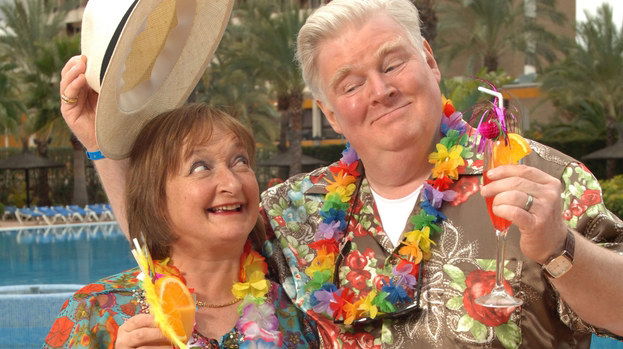 Benidorm star Kenny Ireland has died from cancer aged 68.
The Scottish actor, who also featured in Victoria Wood's BBC show  As Seen on TV, played swinger Donald Stewart in ITV's hit show set  in the Costa Blanca, Spain, city.
He was a leading figure in Scottish theatre having been director of Edinburgh's Royal Lyceum Theatre for a decade and also occupied the same role at His Majesty's Theatre in Aberdeen.
He was written out of Benidorm in June as he battled against cancer. In the show he and screen partner Janine Duvitski played a sex-mad couple who holidayed at the Solano hotel every year.
Mr Ireland's TV credits included a long list of hit shows including Drop the Dead Donkey, House of Cards, Auf Wiedersehen Pet, Heartbeat and Taggart.
Danny Walters, who plays Tiger Dyke in Benidorm said: "Very sad news about Kenny Ireland (Donald Stewart). Thanks for teaching me how to play backgammon. RIP Kenny."
Others took to social media to show their respects. TV chef Rustie Lee, who worked alongside him when she had a small part role in Benidorm said: "RIP Kenny Ireland (Donald from @BenidormTweets). My sincere condolences go out to his wife and family xx"
And former Brookside actor Louis Emerick tweeted: "Ah man! Only just heard the sad newz bout #KennyIreland(deceased). Only met him briefly last yr during my time on #Benidorm! Im a fan he a Gent!"