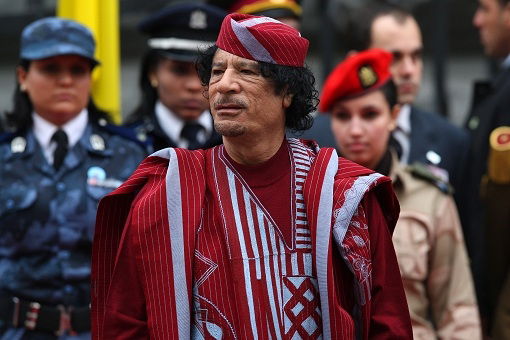 FORMER Libyan President Gaddafi intended to create the African Dinar. Doing so would reduce his country's trading dependence on the Petrodollar and Euro.
His impudence was tantamount to signing his own death warrant. You don't mess with Wall Street or the energy conglomerates.
The Libyan leader was simultaneously negotiating with Russia looking to increase its influence in the Mediterranean basin.
Libya, a former US and British responsibility, looked like falling under the influence of arch trading rival Russian President Vladimir Putin. Russia's state guided energy giant Gazprom had already sunk $10 billion (€7.4 billion) into developing Libyan infrastructure in return for its unique type of oil. From the perspective of the West even tribal anarchy was preferable to such a threat.
In North Korean style orchestrated media, at the raising of Wall Street's baton, suggested the Libyan leader was a threat to the West. The more astute were sceptical but cynicism was overruled. Wall Street, Washington and the Square Mile sent in the heavies. NATO did its job and the rest is history.
The question is, where did the gold bullion once in the chambers of the Libyan National Bank end up? There was an estimated 143 tonnes of gold bars in those vaults. Libya was listed 25th in the top 20 gold deposits in the world. The Libyan leader could liquefy all or part of Libya's gold as he wished.
As reported in The Times, banking houses refused to buy or trade Libyan gold. Cornered President Gaddafi could only make the bullion work by trade barter: Bartering gold for hard currency and using the cash to develop infrastructure, build hospitals, schools, modern highways, subsidise Libyan homes and businesses.
Knowing the fate of Iraq's Saddam Hussein, who too had threatened to switch currencies, the Libyan leader is thought to have moved the bullion from Tripoli to perhaps Sebhah. From there it could be easily transferred to the friendly African Republic of Chad.
It might be just coincidence but Chad soon after was caught up in unrest. It needs Western help and NATO troops are again sent in to 'provide assistance and stability' or an excuse to seek Gaddafi's gold.
There are many happen-stance similar in nature. The Sudan and Nigeria are also caught up in unrest and need Western help. Coincidence that they are the only two countries in Africa sitting on enormous mineral deposits.
The question remains, where is President Gaddafi's elusive gold bullion? The Libyan leader was a close confidant of former French President Nicolas Sarkozy; the two worked on many deals. Does Nicolas Sarkozy have the key to the gold's whereabouts?
The former statesman has since been charged with corruption and faces a long term in prison, unless he spills the beans.