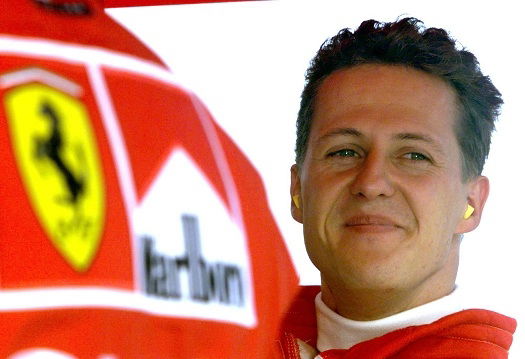 Two hundred and seven days since Michael Schumacher's devastating skiing accident in the French Alps, the former Formula 1 champ is showing signs of both recovery and just how far he has to go.
 Currently the 45-year-old is lying in a Lausanne clinic in Switzerland. He is immobile and mute but is communicating to loved ones and doctors by blinking.
 Doctors are aiming to have Schumacher sitting upright in an electronic wheelchair that he will control with his mouth within the next few weeks. This news comes one month after he woke up from his medically induced coma.
 His loyal wife, Corinna has been converting their mansion in Gland into a medical centre to make his recovery as straightforward as possible. This includes physiotherapists, to massage his joints, nurses,nutritional experts, and neurological doctors.
There have been media reports that he will return home from the clinic in the next month or two.
 Corinna is also selling his private jet, which sources are reporting as a major confirmation that Michael's lifestyle will never be the same again.
 Germany's Bild newspaper explained 'The reasons for the sale are obvious: during his active time as a formula one driver, Schumi jetted between 300 and 400 hours annually with the aircraft around the world.
 'Even in his break of three years, he used the jet for many family vacations with Corinna and the children Mick, 15, and Gina Maria, 17.
 'But now everything is different. The world of the Schumachers has changed' they concluded.
 The jet has a price tag of around €18 million for the grey Falcon 200EX. It can carry eight passengers, fly at 920 km/h and still has his initials painted on the wing tip.