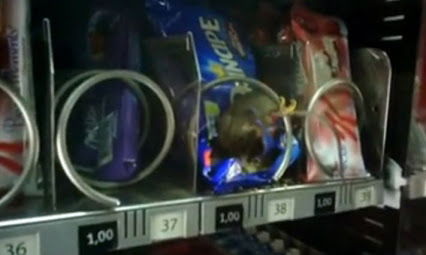 A little mouse has been caught red-handed eating snacks from within a Barcelona vending machine.
Passenger, Armand Serrano Maya, filmed the vending machine after buying a chocolate bar and noticing that it had nibble marks all over it.
It didn't take long for the guilty party to rear his head and make an appearance in the viral video. The incident occurred at Sants-Estacio station on the blue line on the Barcelona metro network.
Armand explained, "I think the sound of me ordering a snack as it dropped into the bin scared the mouse off temporarily, but when I realised my chocolate bar had been nibbled I looked at the other items.
"I saw that some of them had also been eaten and wanted to take my phone to video them. But then I realised that the mouse was still there, and seconds later it moved back to the front of the vending machine and continued to tuck into a pack of chocolate biscuits."
Armand added the event really disgusted him, he said, "It was really disgusting, and I posted the video online to complain about it and warn other people. They claim that this food is fresh."
Selecta, the company that own and operate the machines stated, "How the mouse got inside is a complete mystery but we can confirm that the machine has been taken out of service and in the meantime has been completely cleaned, disinfected and sanitised and will be checked by mechanics to make sure this can't happen again before it's put back into service.
"The mystery, however, is how it happened in the first place, because we have been offering vending machine services for 16 years in Spain and despite the fact that we have 4,000 machines in operation across the country, we have never had a similar case. All machines are not only vandalism proof, they are also secure to prevent pests from getting inside."
[iframe width="480″ height="360″ src="//www.youtube.com/embed/AeyPvIKLHYM" frameborder="0″ allowfullscreen ]
You Tube- La Vanguardia