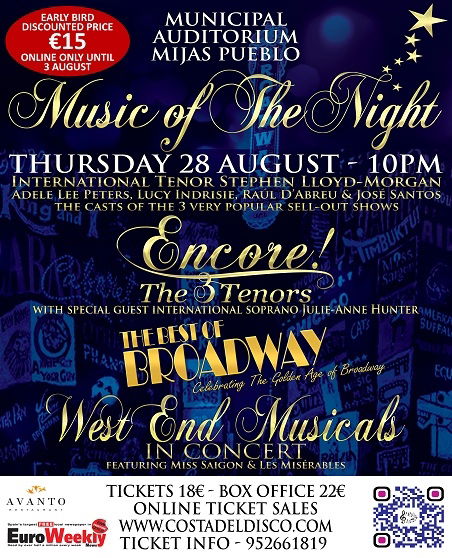 Big M Promotions are thrilled to announce that the highly acclaimed ´Music of the Night´ is coming to the Mijas auditorium this summer on Thursday, August 28. 
This show will be made up of highlights of the popular productions of, ´West End Musicals in Concert´, ´Encore! The 3 Tenors´ and ´The Best of Broadway´, starring the exceptional cast of International Tenor Stephen Lloyd-Morgan, International Soprano Julie-Anne Hunter; together with the amazing voices of Adele Lee Peters,  Raúl D'Abreu, Lucy Indrisie and José Santos. Songs in the show will be in English, Spanish or Italian so there is something for everyone.
Prior shows in smaller venues have sold out, so to be able to host 'Music of the Night' in the 850 seat auditorium ensures that everyone can come and enjoy a musical treat under the summer night sky.
Tickets provide entry to the auditorium and the show, no seats are numbered. Tickets can be purchased online or at any of the sales points along the coast (see below). Online ticket sales use the safe and secure PayPal service which also accepts credit cards. 
You click the FOLLOW THE LINK to be taken to the 'Buy Now' page where you can select the number of tickets you want to buy, make the payment, and you will receive a confirmation email that you must print out and bring to the Box Office at the Mijas Auditorium. Your ticket(s) will only be released on presentation of the email print out.
Prices:
€18 – On line purchases and at Sales points until 27th August 
Special offer! €15 – ON LINE purchases ONLY, until midnight Sunday 3rd August
€22 – at the Box office on the night (open from 8pm)
Bar and snacks are available all evening, however please note that no food or drinks may be taken into the auditorium.
Mijas has a no parking policy for non-residents of the town so visitors' cars must be parked in the multi-story car park beside the town hall. The charge to park is €1 for all day. If you park in the town centre you will be fined and your car may be towed.
We recommend that you arrive in plenty of time to park, walk or take a taxi up to the auditorium, collect or pay for your tickets and find a seat.
Tickets will be on sale at different points along the coast from mid July 2014, and also can be purchased at the Box office on show night.
List of Sales Points
Papeleria Martins – Crta De Malaga 44, Alhaurin el Grande
CJ's Music bar- Benalmadena
Martin Hair & Beauty- Edif. Jupiter, Gamonal, Benalmadena 
Woody's (behind the Confortel)- Los Boliches
Yorkshire Linen Warehouse- Mijas Costa
Sunshine Golf Store- La Cala
Tourist Office- Mijas Pueblo