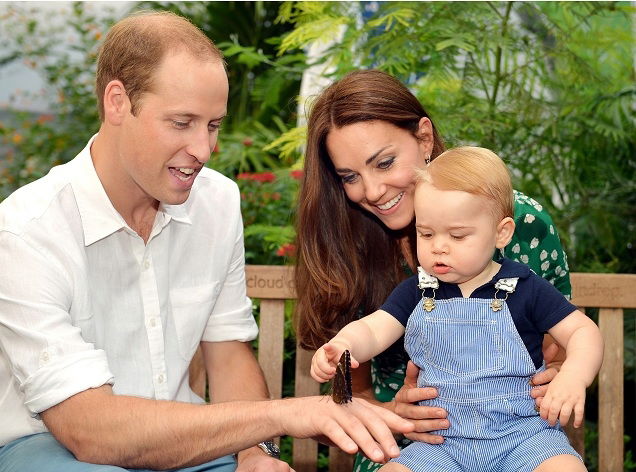 An adorable photo of the Royal family has been released to mark Prince George's first birthday. Prince George has been captured pointing and looking curiously at a very social butterfly that landed on Prince William's hand.
His mother, the Duchess of Cambridge, keeps a distance between George and the butterfly by holding tightly to his waist, in case his curiosity gets the better of him and he decides to grab it.
After all, George did make another baby cry on a diplomatic trip to New Zealand due to his curious nature. Tears were shed when the Prince snatched a toy from another baby back in April.
"We would like to take this opportunity on George's first birthday to thank everyone over the last year, wherever we have met them, both at home and overseas, for their warm and generous good wishes to George and our family," the happy couple said.
George as he turns one, has had a successful first year by anyone's standards. He travelled to the other side of the world to visit Australia and New Zealand and even won the title of 'Celeb baby with the best hair.'
The birthday party will take place in Balmoral Castle, where William spent his summers as a child. His grandfather, Prince Charles, and great-grandmother, Queen Elizabeth II, will be there to celebrate too.