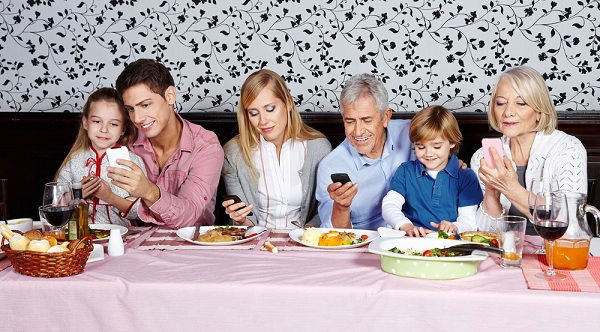 It's becoming more and more apparent that our smart phones are taking over our lives. We have seen trending videos on "looking up" and hear endless comments of "We really should put our phones away" during social occasions.
 The evidence is mounting against us becoming a phone obsessed culture. We have become reliant on our devices for photos, calendars, the time, the weather and of course general trivia.
 The question is whilst we are aware of our habits, can we actually see that we are changing our behaviour as human beings?
 If we stop and take a second to reflect, think back to a dining experience 10 years ago, we may remember a sense of occasion. It was a social event, when people took time out to celebrate an occasion or a person. It was a gathering; we all caught up on each others daily activities. If there was a trivial question that needed an answer we grouped together to figure it out. One person may have taken a picture to mark the occasion!
 Now come back to the present, today's dining experience may have a different feel. It's a quick occasion, perhaps even an inconvenience that must be marked with a Facebook check in along with pictures of all the food at the table with the obligatory tagging of all those present!
 So as customers if we have changes in our behaviour, have our expectations of the dining experience also changed?
 A restaurant in NYC decided to do a little digging. On many of its online platforms this established restaurant was being critiqued for slow service, even though it had increased staff levels to service the same number of diners.
 This intuitive restaurant did a full scale investigation and pulled up CCTV footage of a service from 10 years earlier and compared it with that of today, with a similar number of customers and servers.
 They found the following startling trends:
 In 2004, customer walks in; they are seated and given menus. Out of 45 customers, 3 requested to be seated elsewhere. In 2014 customer walks in and is seated, of 45 guests 18 asked to be seated elsewhere.
 In 2004, customer spends an average of eight minutes before closing the menu to indicate they are ready to order. In 2014, before even opening the menu the customers took their phones out, some are taking photos while others are simply doing something else. Seven out of 45 customers called the waiter immediately and spent an average of five minutes for help connecting to the Wi-Fi in the restaurant. When the waiter returned to take the order the table requested more time and then continued to sit with a closed menu, focusing on their phones. On a second attempt the waiter is again asked for more time, eventually 21 minutes after sitting down the order is finally placed.
In 2004 and 2014 the restaurant produced the food after approx six minutes with a little more time for more specialised orders, out of the old school customers two of the 45 sent the food back to be heated up. Of the 45 customers in 2014, 14 people sent the food back to be reheated, this was after spending an average of 4 minutes photographing the food, and taking pictures of each other with their choices. Perhaps fair to comment that his may have contributed to their food getting cold? Twenty seven of the 45 guests also asked the waiter to take a group picture, and of that 27, there were 14 requests for retakes!
 When it came to asking for the bill the 2004 customers took five minutes for the bill to be paid one it was requested. In 2014 due to phone activity it took 20 minutes longer to ask for the bill and a further 15 minutes to pay it. To add insult to injury eight of the 45 customers bumped into each other, even in one case one of the waiters was involved due to walking and texting!
 In 2004 the average quality dining experience was 1.05 hours in comparison to a distracted 2014 experience lasting 1.55 hours.
 It's pretty hard to dispute these findings and I for one find myself a little red faced today. How are we to expect a speedy service from a waiter/photographer that we are delaying by taking snaps of us not ordering our food or speaking to each other during our social occasion?
 Perhaps the next time we are reviewing the service of a restaurant we should think of our own contributing factors to the delay. Or even a more novel idea, maybe we have a phone free dinner?