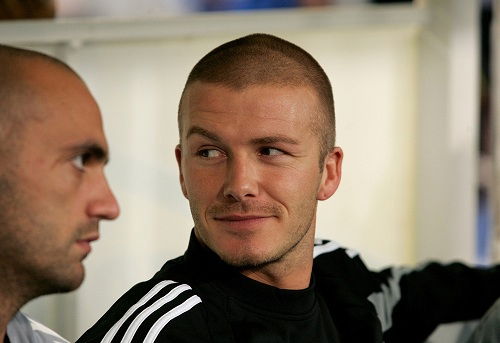 British people love moving to Spain, just look at Costa del Sol. However, this fact doesn't extend to British footballers. Despite the fact that British players are constantly linked to moves to sunny Spain, it rarely happens and is usually a media fabrication. However, some brave souls have taken the plunge. But were they a hit, fair or a miss?
Stan Collymore
The England international signed for Real Oviedo in 2001 but he was quickly dropped by coach,RadomirAntić, due to a lack of fitness.
Collymore then suddenly announced his retirement from football after just five weeks at the Spanish club.
Verdict: Miss
Jonathon Woodgate
Woodgate's move to giants Real Madrid, came as something of a surprise. He was by no means aworld beater and had numerous injury troubles; he was even injured when he arrived in Madrid.
It took him nearly a year to make his debut and when he finally did, it couldn't have gone any worse. He scored an own goal and was sent off.
In 2007, Woodgate was voted the worst signing of the 21st century by fans of the website of aSpanish leading sports daily. He was later shipped off to Middlesbrough.
Verdict: Miss
Gary Lineker
The English goal-scorer legend moved to Barcelona in 1986 just after receiving the Golden Boot award at the World Cup.
Lineker was pushed out of the team by coach, Johann Cruyff. Nonetheless, he netted an impressive 42 goals in 103 appearances.
Verdict: Hit
Michael Owen
Michael Owen's star always seemed to burn too bright for the Liverpool side of that time. It seemed like only a matter of time before one of Europe's giants came knocking. It was Real Madrid at the door in 2004.
Despite the fact that he struggled to break into the side, his goal to minute ratio was not bad. He netted 16 goals in 45 games, one being the winner against fierce rivals, Barcelona. Still, he faced fierce competition for Ronaldo and criticism from the press and fans. He was sold to Newcastle after just one season, following new arrivals to Real Madrid.
Verdict: Fair
Mark Hughes
Hughes moved to the Nou Camp on the back of six years at Manchester United. Barcelona's coach at the time hoped Hughes could form a fearsome British strike partnership with Gary Lineker.
However, Hughes only scored five goals in 37 appearances in a torrid time in La Liga before being loaned out to Bayern Munich.
Verdict: Miss
David Beckham
Madrid fans seemed unsure about Beckham's arrival as a Galactico. However, he won the fans over and his time there was seen as a success.
For one reason, Forbes magazine reported that he had been primarily responsible for Madrid's enormous increase in merchandise revenue, a total reported to top €500 million during Beckham's four year spell at the club.He was adored by teammates and even clinched the La Liga title in his last season at the club.
Verdict: Hit
Jermaine Pennant
In 2009, the former Liverpool man surprisingly signed for Real Zaragoza. He looked uneasy and out of place during his 25 appearances for the struggling club. He then turned up late for training three times in two weeks and never played for the club again.
Verdict: Miss
Steve Manaman
Manaman's time at Real Madrid was a roller coaster. He was sensational in his first year for the club, even scoring in the Champions League final. Despite this, he was then told he was unwanted by the club.For what reason is anyone's guess.
However, Manaman refused to leave and decided to stay and force his way back into the team, which he did. He eventually left the club after four years. He won two Champions Leagues and a La Liga title, despite never being appreciated by the club.
Verdict: Hit
John Albridge
Albridge arrived to Basque team Real Sociedad in 1989 at the age of 31. The team had a Basque-only policy at the time but they broke it to sign the Irishman for a club record of €1.3 million.
His goal record was amazing, scoring 16 goals in his first season, but Albridge struggled to settle into his new life abroad and left after two seasons.
Verdict: Hit
Gareth Bale
Gareth Bale has played well for Madrid since his €94 million move from Tottenham in 2013. He has scoredgoals and had big moments despite some early injury troubles. He scored in the Champions League and Copa del Rey finals this season, hence he is beginning to pay his massive fee back. Still he is the world's most expensive player ever so there is still a long way to go for the Welshman.
Verdict: To be determined.
[iframe width="480″ height="360″ src="//www.youtube.com/embed/yWVrolNQ4RU" frameborder="0″ allowfullscreen ]
You Tube- Real Madrid C.F.