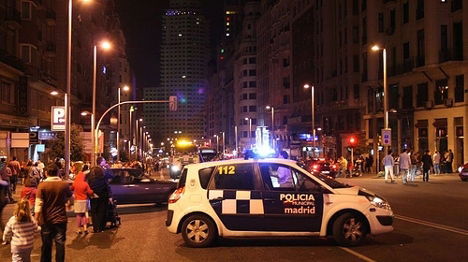 Two Madrid police officers were hurt in a car crash after their vehicle collided with another. The driver of the other vehicle claims the crash occurred because he couldn't hear the police sirens over the sound of his car radio.
Emergency sirens in the capital have to be lower as city officials struggle to combat the issue of noise population. However, this is controversial, especially in the wake of this crash.
The Spanish worker's union (CSIT-Unión Profesional),that represents Madrid police officers, explained their anger in a public statement, saying, "We don't consider putting noise pollution before the safety of professionals and citizens to be a good idea."
Madrid officers are upset not only with the low level sirens, but their cars in general. They are so small that anyone over a height of 5.7 feet cannot sit comfortably in the car. This is despite the fact that the average height of a Spanish male is 5.10 feet.
Officers are also concerned about the sharpness of the IT and filming equipment in the cars. They believe they could prove deadly in an accident.
"The administration has preferred to follow instructions from external bodies rather than listen to professionals who spend thousands of hours behind the wheel," CSIT-Unión Profesional also decried the situation as "shameful."