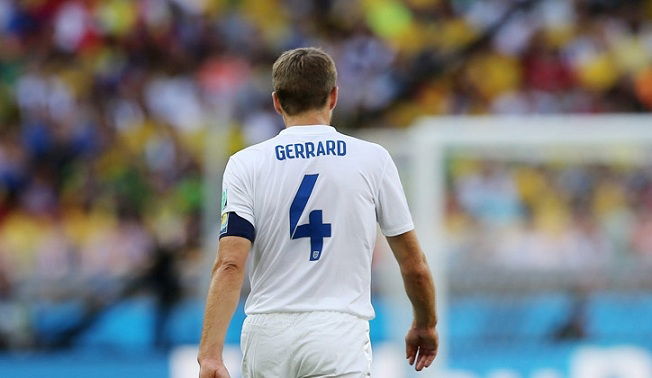 Steven Gerrard has retired from playing for England after captaining England's disappointing World Cup group stage exit.
The Liverpool captain played 114 times for his country since his debut in 2000, scoring 21 goals.
At 34, the news is not a major surprise but it still closes an era of one of England's greatest players that perhaps never fulfilled his potential like many of the so-called 'golden generation' that he was part of.
Gerrard, England's third most capped player ever, said, "I have enjoyed every minute of representing my country and it is a sad day for me knowing that I won't pull on the England shirt again.
"However, I do look forward to continuing my strong relationship with the FA and helping out in any way I can going forward. 
"I'd like to firstly thank my family and friends for all their support throughout my England journey.
"I'd also like to thank everyone who has been part of my international career, from the England managers I've played under to the staff at the FA and, of course, all the players I've been fortunate to play alongside. 
He added, "I'd especially like to thank Roy Hodgson, firstly for giving me the captaincy permanently when he took the job, making me the proudest man in the country and allowing me to fulfil my childhood dream.
"This has been a very difficult decision, one of the toughest I've had to make in my career. 
I have agonised over this since coming back from Brazil and have spoken to family, friends and people close to me in the game before coming to this point."
Speaking about his final game in the white shirt, Gerrard said, "What I'll always remember the supporters for is the reception the fans gave me straight after the Costa Rica game – we'd just gone out of the World Cup at the first stage, it hadn't gone well for myself personally or the team and they gave me an unbelievable reception and that's what's sticking in my mind."
He concluded by saying, "I'd have loved nothing better than to carry on and continue to fight for the England fans moving forward but there is a time when you're a football player where you've got to make the right decision, when you've got to be selfish."
[iframe width="640″ height="360″ src="//www.youtube.com/embed/00zcYZquDcw" frameborder="0″ allowfullscreen ]
You Tube – England Football Official