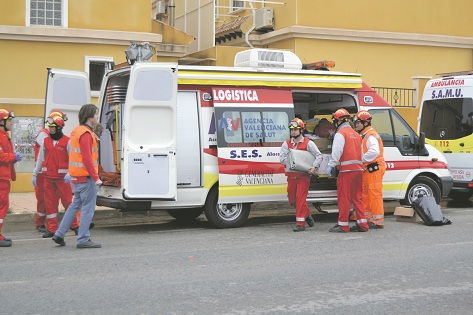 THE regional government has admitted that delays have sometimes occurred with responding to calls to the 112 emergency services.
The admission was made during a recent visit to Elche by Luis Santamaria Ruiz, who heads the regional government's Interior department. He promised to take action following talks with the town's Social Action Councillor, Antonio Luis Martinez-Pujalte. 
Most of the calls for ambulances now go through the 112 centre in Valencia City, Martinez-Pujalte complained. As with many other departments, spending cuts have been made and response is not as smooth as it could be, particularly in Alicante and Castellon. Operators unfamiliar with locations in both provinces ask endless questions, panicked callers have complained, and ambulances are frequently misdirected.
In recent months there has been an increase in protests not only from the families of patients but also doctors and nurses. The situation came to a head recently in Elche when the life of a 79-year-old woman was endangered after an ambulance was sent to the wrong address.
The dispatcher in Valencia insisted that the caller had given the wrong address, although errors "are now routine," according to medical sources. Procedures will be reviewed and speeded up "so that precious time is not wasted," the regional government's Interior department has now pledged.