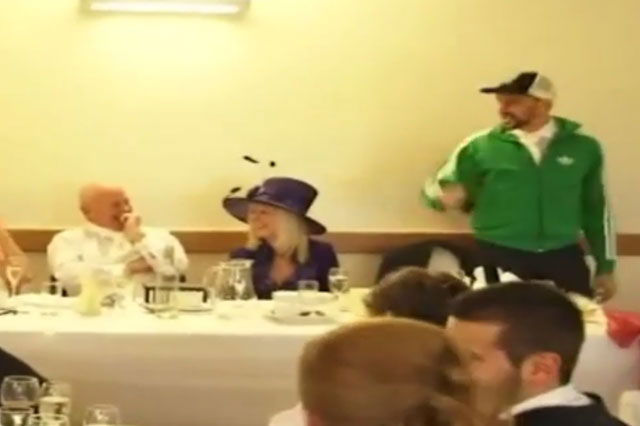 It has been called the greatest best man speech ever, managing to be rude, funny and caring at the same time.
Spencer Loveridge surprised best friend, Luke Davis, and his bride, Kate Davis, as he delivered his best man speech as a rap song set to a Tom James sample track. It was a massive hit with the crowd, who gave him a standing ovation at the end.
Spencer rapped, 'Love is blind, Or so the saying goes, But you've never seen him wipe bogeys on your windows.
 'Lewy's really found the perfect hubby, but as we all know he's a little bit grubby. Eating bacon with his hands, from a pasta bowl, Why is there jam on the remote control?! 
 'And after he's been to the loo, It won't be smelling of flowers. It's actually probably best not go in there, for the next 24 hours.
'And if that wasn't enough you've got to put u up too, Too late Lewy, You've already said "I do!."
Despite peer pressure from friends to share his plan, only Spencer's girlfriend, who pressured him into going through with the rap, knew what he was going to do.
Here is the video.
[iframe width="640″ height="360″ src="//www.youtube.com/embed/TGgYcIul3QA" frameborder="0″ allowfullscreen ]
Spencer Loveridge-You Tube