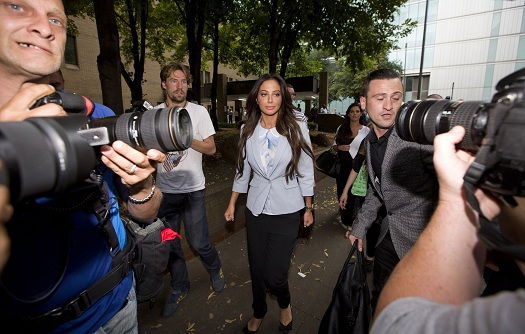 Former X Factor judge, Tulisa Contostavlos, walked away free from court on Monday after the judge threw out the case against her.
The star was on trial after she allegedly organised the supply of cocaine to an undercover reporter. The court heard that Tulisa, 27, offered this service after the reporter said he would help her break into films.
In London's Southwark Crown Court, the judge ruled that undercover reporter Mazher Mahmood gave 'entirely inconsistent evidence'. 
The court heard the collapse of the case, hinged on evidence given by Mr Mahmood, regarding a statement given to police by a driver called Alan Smith who picked up Miss Contostavlos from a hotel in London in May last year. The reporter could not get this part of his story straight and gave answers that were 'entirely inconsistent' with his previous answers and the case was thrown out.
On the steps outside the court, Contostavlos said her life had been on hold this year due to the allegations.
 She stated 'As my lawyer said at the outset, we have now succeeded in exposing the real culprits and most importantly, the real liar. 
 'As someone who has had my life ruined for the past year, I strongly believe that this type of entrapment should not happen to anyone.
 'I urge both the police and News UK to investigate Mazher Mahmood and his team and to put an end to his deceit in pursuit of sensational stories for commercial gain.'
Mahmood, nicknamed the 'fake sheikh', disguised himself as a connected film producer and arranged a meeting with the singer in Las Vegas.
 According to Mahmood, he promised the former N-Dubz star that he could arrange for her to star in a big movie, with Leonardo Di Caprio as her possible co-star. He also said that he could get her an invite to attend the Cannes Film Festival this year. They also discussed if she thought she would have more onscreen chemistry with Keira Knightley or Kate Winslet.
 Contostavlos allegedly replied to these ideas by saying, 'amazeballs!'.
 She then told Mahmood that she has arranged for him and his friends to visit a pole dancing club called Whites.
 Mr Mahmood moved the conversation on by asking, 'Talking of White, what about white sweets?'
 Tulisa replied 'Definitely on the day. What I will do, I can definitely sort it, I just need to make some more calls.'
 Mr Mahmood warned 'Obviously, just keep this between us.'  
 Laughing, the singer commented that 'It wouldn't sound too good that Tulisa is off finding white sweets.'
 The next day Tulisa texted him saying, 'Let me know when you land so I can sort you out.'
 She put the reporter in touch with her friend and rapper Mike GLC, who supplied them with half an ounce of cocaine.
 The Sun recorded the whole conversation and ran with the story the next day on their front page.
 The singer is also accused of bragging that she used to be part of a gang that dealt crack cocaine and that her ex-boyfriend was a major cocaine dealer.