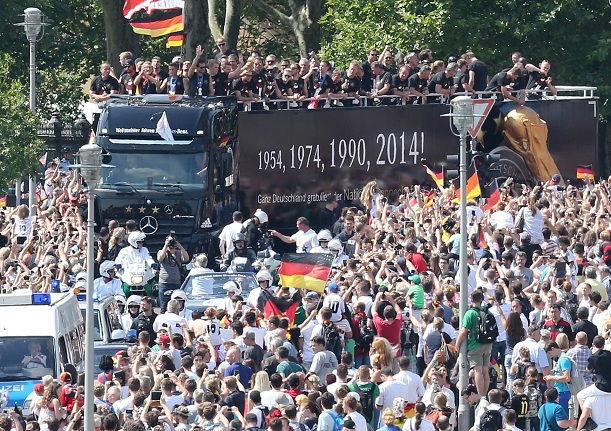 Over one million people are expected to cheer on their World Cup winning heroes today, Tuesday, in Berlin. Fans have been lining the streets since daybreak to get the best view possible.
There will be a victory bus parade and then celebrations will centre on the famous Brandenburg Gate, where the players will display the cup and make speeches to their adoring countrymen.Big screens have been set up around the city so as many fans as possible can get a view of the stage.
There is a carnival atmosphere in the city with thousands of people taking the day off even though it is not a public holiday.
It is not clear if German Chancellor, Angela Merkel, will make an appearance at the ceremony.
The team members who play for Bayern Munich will also attend a separate ceremony in Munich later tonight.
The team landed from Rio this morning, although the flight was delayed by two hours after a baggage car scraped the side of the plane before takeoff. As captain, Philip Lahm, stepped off the plane, trophy in hand, he was blasted with the screams and cheers of thousands of fans who had gathered on a viewing stage at the airport.
The winning goal, which came in the 113th minute of the match against Argentina, gave Germany the title of World Cup winners for the fourth time with their other victories coming in 1954, 1974 and 1990. It is their first time of winning as a unified nation.
[iframe width="640″ height="360″ src="//www.youtube.com/embed/HXQd3akYJpg" frameborder="0″ allowfullscreen ]
yOU tUBE- No Comment TV