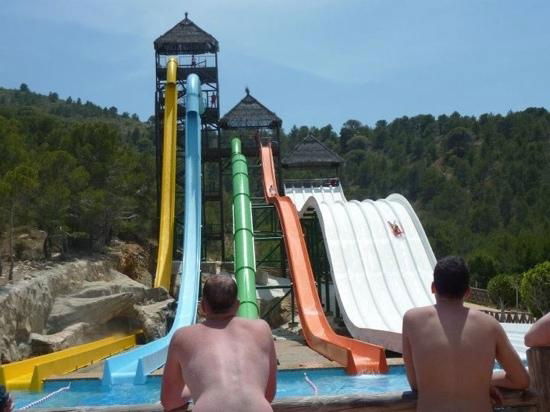 Jamie Norman, 27, was in Aqualandia water park in Benidorm when he suffered a horrific accident on the VertiGo slide.
The VertiGo slide is one of the biggest and fastest water slides in the world. Adventure-junkies get to the top of the 33 metre slide before shooting down at 60mph.
When you reach the top, a trapdoor opens below and you then plummet down the steep slide. However, the problem for Jamie was that his trapdoor only opened halfway and he smacked his leg, face and arms on his way through, suffering horrific injuries.
Jamie, an electrician, told the Manchester Evening News, "I could have been killed. If I'd been knocked unconscious I could have lost control and fallen and drowned in the pool. I took an almighty crack on my face."
The father-of-two is now recovering at home in Radcliffe. He added, "I'm still in a lot of pain. I've got two children aged 10 and seven. I should be at home resting with my feet up but I have a family and a mortgage to pay so I'm having to go back to work."
Explaining the incident, Jamie said, "I was obviously quite distressed but they just said, 'We'll sew you up'. I was treated by an on-site doctor – they didn't bother calling an ambulance or anything."
Jamie will now be launching legal action against the park.
Aqualandia have stated, "We make exhaustive checks on all our equipment daily. We would never open – or reopen – a ride that wasn't safe."
However, Jamie goes against this version of events, stating that people were back on the slide just 10 minutes after his injuries.