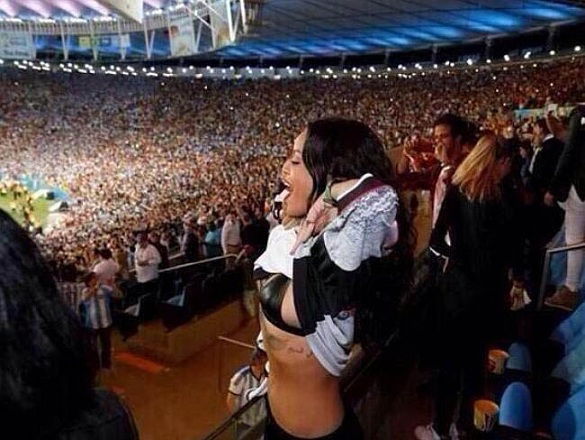 Rihanna was in attendance and cheering on Germany at the World Cup final in Rio on Sunday night.
In a cautious, cagey final, the pop singer decided to liven things up by flashing the crowd.
The singer tweeted her sexy photo along with a host of other tweets, giving her followers a lowdown of the game.
At the final whistle, Rihanna began wildly celebrating and the German team were more than happy to let her join the party. Mildfield star, Mesut Özil, even gave her his German shirt which she wasted no time putting on as she partied.
The 'Rudeboy' Singer tweeted, "Congrats to my German boyz! This was the most epic experience of my entire life! You guys made me so proud to be here."
Later that night, Rihanna tweeted a snap of herself holding the famous trophy while being kissed on each cheek by Podolski and Shweinsteiger.
The next day, the pop star was clearly still over the moon when she tweeted her followers, 'I touched the cup, held the cup, kissed the cup, took a selfie wit the cup!!! I meeeaan…… what is YO bucket list looking like bruh?'
Last week, she let the world know that she was backing the Germans when she posted a picture in a German coloured swimsuit and face paint along with the caption 'For my German boys.'