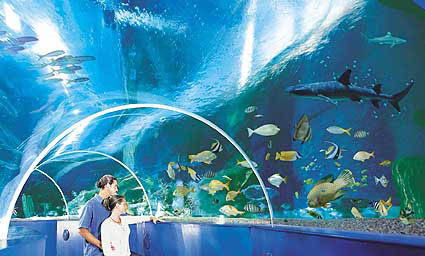 Nude visitors, wearing only backpacks and sandals, checked out Blue Reef Aquarium, in Newquay last week.
The group of 10 walked among the tropical fish, turtles and sharks as part of Nudefest nudist festival.
Nudefest is an annual event in the South West, organised by British Naturism. It attracts hundreds of naturists from all over the country.
Blue Reef employee Paul Strachan explained that the tourhappened after they have closed to the public. He explained the day before that he had, "A little bit of apprehension to begin with, but it's going to be different, I'll admit that. It's going to be interesting. It's the second time this has happened here, so it's something that we're kind of accustomed to." 
Once a year, the aquarium allows nude guests to tour during the Nudefest.  The naked group not only visited Blue Reef, but also tried scuba diving and went on a fishing trip during their week-long stay in Newperran Holiday Park.
Andrew Welch, a British Naturism member, said,"Nudefest is a well-established and hugely popular event in the naturist calendar and we are delighted to have returned to Cornwall this year.
"Guests were very excited by the prospect of a nude trip to one of Cornwall's most popular tourist destinations."