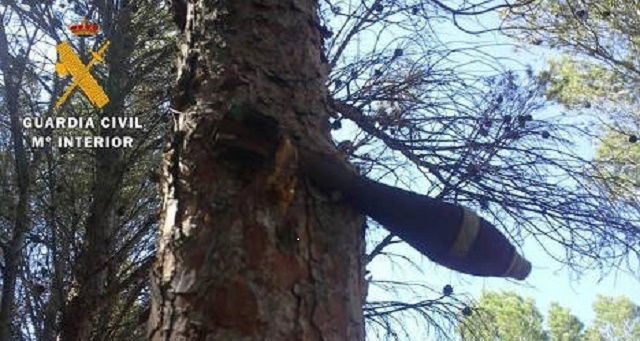 A 70-year-old mortar grenade from the Spanish Civil war was defused by the Guardia Civil in Aragon.
The explosive device was stuck in a pine tree and its deadly load was still intact.
Police sources indicate the grenade was high up in the tree and had gone unnoticed for the last seven decades. It is assumed that the grenade missed its target and became stuck in the tree.
The Guardia Civil bomb squad – Tedax – has defused 111 explosive devices in Aragon so far this year.
Most of them were artillery shells weighing between four and 45 kilograms. However, Tedax has also disarmed hand grenades and four aerial bombs. The last aerial bomb was found in June 2013 in a pond in Salcedillo (Teruel). It weighed 50 kilograms and had to be removed with the help of expert divers.
Tedax experts say these old explosive devices are extremely unpredictable since they have been out in the open for so long.
Unexploded bombs from World War II and other conflicts are not uncommon in Germany and elsewhere in Europe.
Back in November 2013 an enormous 1.8-ton bomb dropped by the RAF in Dortmund was found and 20,000 people had to be evacuated from their homes lest the device exploded more than half a century too late.