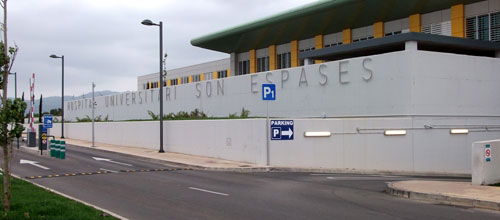 A 19-year-old Scottish man is in a serious condition after falling from a third floor balcony in Magaluf. He fell onto the concert floor near the pool below. He is in intensive care in Son Espases Hospital with arm and head injuries. His condition is described as serious, but not life threatening.
The incident occurred around 6am on Wednesday morning in his hotel, just across from the beach and only 200 metres away from the Punta Ballena party strip where the shocking sex act video involving a British tourist was recorded.
He had flown to Majorca only a few hours before and was planning to look for a summer job.
"He's a great guy. He is a serious person who had come to work here for the season," his emotional British friend told Diario de Mallorca.
"I heard him and three other friends when they were on the balcony. After that I don't know what happened," he said.
Police believe that the tourist either lost balance while trying to jump to another balcony or he was attempting the highly dangerous social trend of 'balconing,' where holidaymakers attempt to jump into hotel pools from their balconies.
Three British tourists were killed in balcony falls in April and May 2012 in a horrible string of tragedies.
The British Consul in the Balearics have stated in the past that, "We've already seen some tragic cases which have had devastating consequences for the individuals and families concerned.
"Some people have fallen whilst climbing to a friend's apartment, others have simply lost their footing after a few too many drinks and a few have deliberately jumped off aiming for the pool below.
"It should go without saying these practices are extremely dangerous and can cost them their life or leave them permanently disabled."