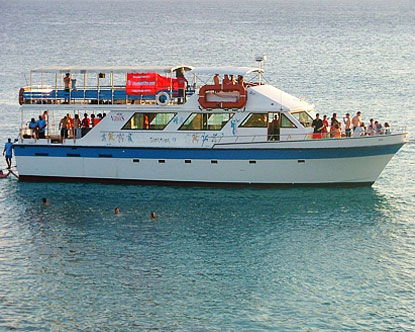 Barcelona's local government are aiming to ban a booze-cruise company in an attempt to cope with drunken holidaymakers and keep a clean reputation as a cultural destination that is fit for all the family. However, they openly attempt that they may not have jurisdiction over the city's waters.
The crackdown is aimed at Booze Cruise Barcelona, a company that offers a three hour cruise with unlimited beer and sangria for as little as €45.
The website boasts that its boat parties are 'the wildest thing to do in Barcelona' and that, 'It's a three hour cruise of the med served up with unlimited drinks, wild games and the sickest promo crew in Barcelona to help you get absolutely s*** faced.'
The government has labelled this as simply 'drunken tourism' and call for it to be ended.
However, Adam Brigante from the company disagrees. He explained, "The parties we throw are tame in comparison to the ones in the likes of other Spanish places like Benidorm, Magaluf, Ibiza and Tenerife. 
He added, "We promote having a good time in Barcelona and keep our people safe from the infamous pickpockets and drug dealing thieves that most tourists that come to Barcelona get caught up in.
"We think that the council in Barcelona should spend their time, money and efforts on these issues and not young tourists trying to have harmless fun with each other."
Barcelona has already banned drunken pub crawls and promotion of the cruise using street flyers. However, banning the service at sea represents a more complex legal challenge.