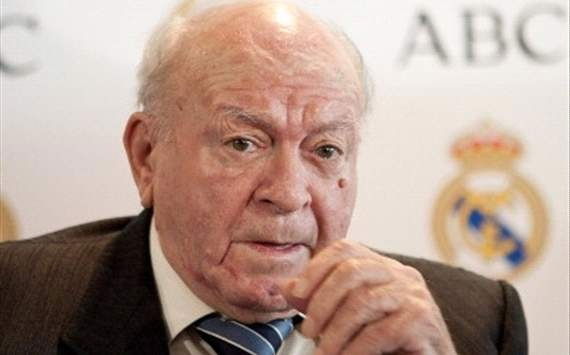 Updated- Real Madrid president and hero, Alfredo Di Stefano has passed away at age 88. He had been in an induced coma after suffering from a heart attack on Saturday.
The Argentinian-Spaniard was in central Madrid, having dinner with his family when he started feeling unwell. When medics arrived, Di Stefano's heart had stopped and he wasn't breathing.
He has been known to have had heart scares in the past.
Real Madrid had been "hopeful" that the 88-year-old honorary president would pull through.
Twitter is already abuzz with the football world paying its respects. 
Manchester United tweeted that, "We're sad to hear @realmadrid legend Alfredo Di Stefano has passed away. The thoughts of everybody at #mufc are with his family & the club."
Former England striker and BBC pundit Gary Lineker tweeted that "One of the greatest players ever. Scored in 5 successive European Cup finals. A feat never to be matched."
Di Stefano was one of Real Madrid's true club legends, playing for the club for 11 seasons and winning five European cups in that time. He was described at the time as the best footballer the world had ever seen.