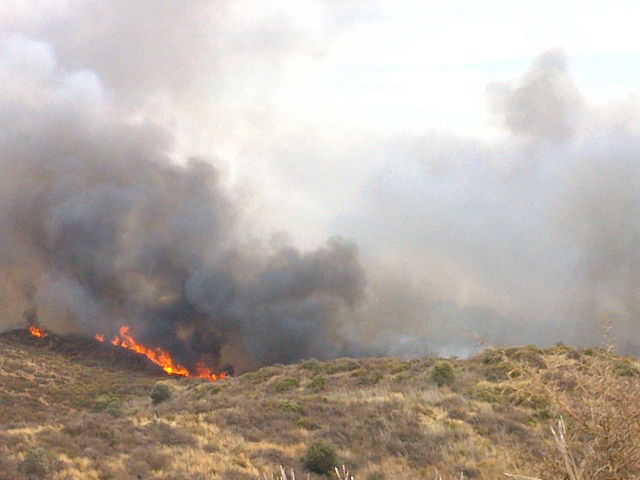 THE fire that broke out in Mijas Costa is under control.
The emergency was declared at 5.30pm today (Sunday), according to Infoca. Fire-fighters arrived on the scene to put out the flames and several firefighting aircraft were deployed. The fire is said to have started in a wooded area just metres away from homes on the El Faro urbanisation.
There was reportedly a strong wind, which blew the flames away from nearby houses. In addition, there was purportedly a 10 kilometre traffic jam on the A-7 from Club La Costa to Calahonda. 
A large column of black smoke was visible from different areas of Malaga. Civil Protection personnel and Mijas and Fuengirola fire-fighters decided to evacuate some Club La Costa homes as the flames approached. However, the evacuees from El Chaparral, La Ponderosa and Polarsol have started returning to their homes since the situation seems to be under control.
Eye witnesses reported seeing four helicopters and one firefighting aircraft battling the flames which were spreading rapidly due to the strong wind. The helicopters were taking water from a lake at the Mijas horse racing course to douse the fire.
At the time of writing there were no reports of injuries or damage to property.