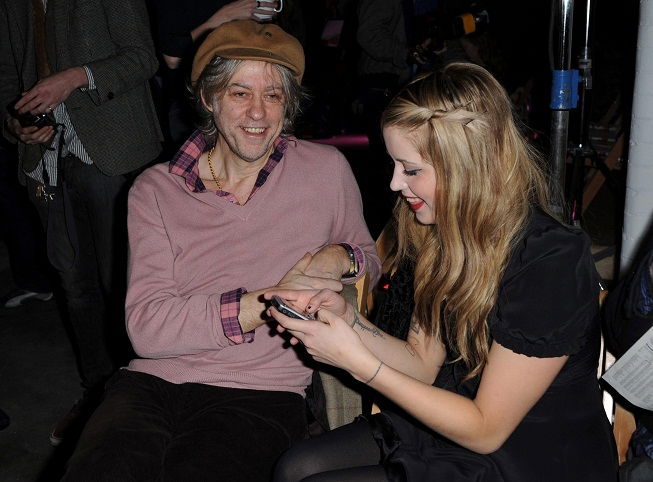 Sir Bob Geldof has spoken to the media for the first time about the tragic death of his daughter Peaches.
The Irishman, 62, spoke to ITV's Lorraine programme of his "intolerable" grief over losing his 25-year-old daughter and it was easy to see that his emotions were still extremely raw three months on.
"There are not many options," he explained. "It's intolerable, it's very hard as, everybody must realise if it's happened to them too. What else do you do? You get on with it."
The Boom Town Rats frontman explained the day to day challenges of such loss, "You could be talking to somebody, you could be walking down the road, and I've got to be very careful because this is still very raw… but I'm walking down the road and suddenly out of the blue there's an awareness of, her… and you know, I buckle.
"And I've got to be very careful because walking down the Kings Road there are Paps (photographers) everywhere so I have to duck off into a lane or something, and blub for a while and then get on with it and that's it. So I'd imagine that will be there for a long time, I mean what else."
Then Geldof described the huge pride he has for his daughter and the mark she had left behind.  "The nice thing about that was that this young girl had made such an impact, especially on her generation, when the Rats got back together last year we went out on tour – I don't do sound checks because they bore me to death – I was walking around Leeds… and people would come up to me and say, 'You're Peaches Geldof's dad aren't you' and I'd say 'yes' but I liked it, I liked being Peaches Geldof's Dad…"
Geldof also touched on the future for Peaches' two young children: "My Mum died when I was six or seven, I have no memory of her but as you say, the world has moved on. I am shown photos, I really have no interest in that much because I have no memory of her.
"So I don't really remember her and I'm not sure that… they are so small the little chaps that… I'm not sure that they'll have this craving to remember their Mum, and I think that is healthy.
"They are young enough, you know this terrible expression, to be able to build an emotion relationships away from the primary relationship with the mother. I know that sounds very cold and empirical but obviously I have had to think about the rest of the family and Tom, their dad, and Keith and Sue their grandparents, who are amazing people and doing fantastically with the guys. So, yeah, as I say, I don't want them becoming wrapped up in the Geldof life."