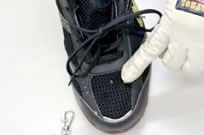 Two men have been arrested in Japan for designing and selling a shoe containing a mini camera used to take upskirt photos. It is the first case of its kind in the country.
Police arrested the manager of Camouflage Cameras, 25-year-old Takahiko Naito, and his employee, Atsuko Sonoda, 24.
Naito has accepted the allegations, on the other hand Sonoda is claiming that he "didn't know what the customers did with the cameras." 
The shoes were being sold at 27,600 Yen (€198.40) a pair and had a specially designed lens and shutter that was controlled by remote control.
The business was busted after a customer was arrested while attempted to use the device on the public in Kyoto. From there the police were easily able to trace the product back to Naito and Sonoda.