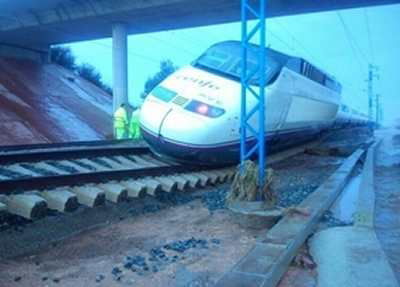 Poor weather is being blamed for derailing a high speed train on the Madrid – Alicante line around 7.30pm last night.
Although passengers received a shock, none of the 220 commuters were injured. The train was left at a 20 degree left lean. Alternative transport was arranged for the passengers and about 800 other travellers were delayed.
A cloudburst is being blamed for flooding and collapsing the tracks. Adif, the Spanish state-owned company under the responsibility of the Ministry of Public Works and Transport, has stated that flooded tracks are not common and that this is the first case this year.
 There are weather warnings for 14 Spanish provinces due to the forecast of heavy rain and storms.
Six trains in total were delayed but normal service has now resumed in general and on the line.
Seventy nine people were killed last July after a high-speed train came off the tracks close to Santiago de Compostela.