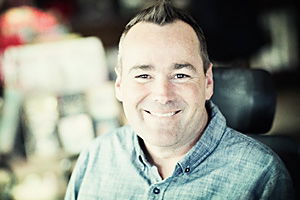 Justin Skeesuck has always dreamed of completing the historic 500 mile Camino de Santiago  hiking route from the north Spain to France. Despite being confined to a wheelchair, due to progressive auto-immune disease, Justin still believed it could somehow be done.
When he asked his lifelong friend Patrick Gray if he had any ideas, he simply responded "I'll push you."
The pair are setting out to become the first people to complete the four week journey with a non-motorised wheelchair with them.
The adventurers from Idaho are trekking the El Camino de Santiago pilgrimage, crossing the Pyrenees towards the shrine of the apostle St. James in Galicia.
Born 48 hours apart, the pair have been friends since birth because their parents were friends. Justin explained: "Patrick is my best friend and when I told him what I wanted to do he just instantly said – 'I'll push you'.
"We both believe there is more to this life than just sitting around complaining about the challenges we all face. 
"Our aim is to help others realise that life is too short and anyone really can achieve their own dreams if they just make that first move."
Justin has his own successful blog entitled The Disabled Traveler in which he advises and teaches other disabled people how to overcome their challenges to see the world.
Patrick concluded by saying: "Justin is like my brother, even though we are not related by blood, so I immediately wanted to help him
"In some ways each of us has our own limitations – ailments, circumstances, or resources – which can anger us but you can always conquer them."
If you would like to donate, they do need support to make this amazing journey a reality.
Visit their website for more information.