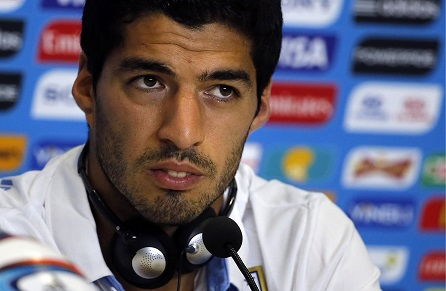 Luis Suarez has finally apologised for the conduct that led to his four month banishment from any football related activities, the most severe punishment handed out for an on-field offence at a World Cup.
The disgraced striker, Luis Suarez, acknowledged for the first time that Italian defender Giorgio Chiellieni was bitten during the group stage game which saw Italy knocked out of the World Cup.
The Uruguayan issued a statement on his official twitter page, which said: "Independent from the fallout and the contradicting declarations that have surfaced during these past days, all of which have been without the intention of interfering with the good performance of my national team, the truth is that my colleague Giorgio Chiellini suffered the physical result of a bite in the collision he suffered with me. For this: I deeply regret what occurred. I apologise to Giorgio Chiellini and the entire football family."
However, the 27-year-old Liverpool striker insists that he had collided with the Italian opponent, and that the bite was unintentional but the result of a collision.
The severity of the ban was partly due to this being his third such offence, Suarez has also been "prohibited from entering the confines of any stadium" during his ban and was fined €83,000 by FIFA.