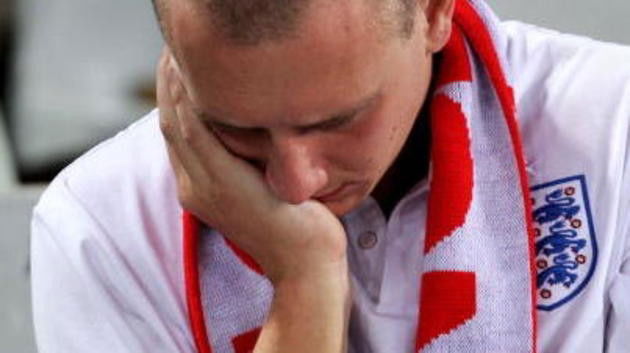 Another tournament, another crushing disappoint for England. And sure, this time round, England didn't go in with the usual inflated expectations, but fans would have certainty been expecting or at least hopin, for at least one win and more than two goals across the three games.
So why was England's Brazilian adventure over after just two games?
Hodgson got it wrong with Rooney.
 When everyone saw the English team and formation against Italy they praised Hodgson for making a brave call and yes, his formation allowed Sterling to shine in the centre.
However, it also meant that he played Rooney, a stocky 28-year-old, on the wing in the Brazilian heat. He was horribly exposed and Italy knew it. That is why they continually attacked from that side of the pitch as Rooney trudged after shadows.
It seemed like a brave call from Hodgson but it wasn't. It was a half measure. The real and the right call would have been to drop Rooney and play a less naturally talented but suitable player there. Hodgson didn't and England paid the price.
Hodgson got the midfield wrong
 England's midfield pair Henderson and Gerrard were exposed due to the decision to play a midfield two. This is why Italy and Uruguay were able to set the tempo so easily. In reality, they should have been playing in a 4-4-2 formation with Gerrard sitting just a bit deeper.
The 4-2-3-1 formation didn't play to either of the players' strengths. Hence, they both struggled in the tournament despite both being on amazing form for Liverpool this season.
Leaving John Terry at home.
Between the racism and messing around with team mates girlfriends, Terry makes it easy to hate him. However, there is no doubting that he and Cahill formed an excellent partnership at the back for Chelsea this season. Cahill didn't look the same player beside a nervous Phil Jagiekla.
Suarez put six goals this season past Jagiekla's Everton. However, when he came up against the partnership of Cahill and Terry he didn't score.
Terry, love him or hate him, is also undoubtedly a natural leader. England's youthful, inexperienced team were seriously lacking that.
The strength of the Premier League.                          
If you look at the decline in the strength of the English national team there has been a correlation with the growth in global popularity and spending power of the English domestic league. Yes, the Premier League is one of the biggest success stories of the last 20 years. However, there is a catch.
As English teams financially outmuscle teams from other leagues to get the best players from all over the world, young English talent doesn't get a chance to develop and play at this top level. When you look at the Spanish, French, Italian, or German leagues (especially the bottom half of the table) almost all the players are natives. This isn't true in England and it has hurt the national team's prospects badly.
A lack of world class players
World class players can make something out of nothing. Even when you are being overrun they will turn the slightest chance into a goal. Italy had Balotelli and Uruguay had Suarez. The two players were quite quiet in the two games against England but they had a combined total of three chances against England and scored three goals. England doesn't have anyone with the class to be so clinical. You simply need that if you don't want to be flying home early.