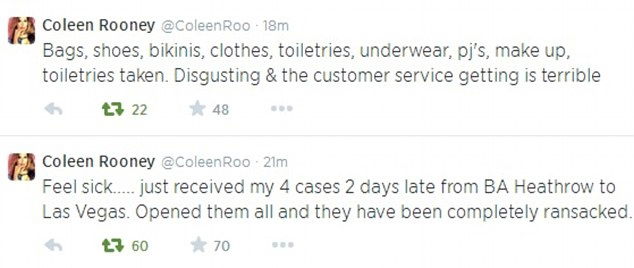 Coleen Rooney has accused British Airways of ransacking her four designer suitcases after she flew with them to Las Vegas for a four day family get away following her husband's early exit from the World Cup.
After her luggage finally reached her two days later, Coleen was far from happy. She tweeted "Feel sick… just received my 4 cases 2 days late from BA Heathrow to Las Vegas. Opened them all and they have been completely ransacked."
She later tweeted "They even took my toothbrush… Why?"
Rooney wasn't the only passenger to be caught up in the baggage chaos. Due to a system fault, thousands of bags were left behind while travellers took off to their destinations.
A spokesperson for BA explained that the luggage had not been 'lost' but it had 'missed its flight'.
He confirmed: "I do not have a total figure, but it has been in the thousands, as the problem happened across a number of days."
A twitter backlash followed Rooney's tweets, suggesting that she could easily afford to buy the items again. She angrily defended herself claiming that money wasn't the issue by tweeting "And you can stick all the sarcastic comments about money. It's not all about money it's about people going through my personal stuff and taking stuff that I need for my holiday."