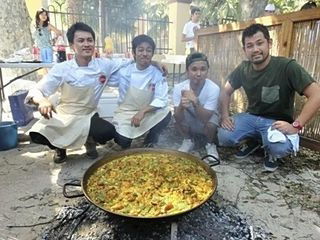 A Japanese Paella Association based in Koto Ward, Tokyo, is organising a paella dish event for more than 2,000 people on July 5.
The event is scheduled to attract 500 children from various primary schools surrounding the Toyosu Park.
The youngsters will each donate 150 grams of rice towards the paella, with the event planned on a first come first served basis.
The secretary general of the association and chef at a Spanish restaurant in Tokyo, Yasutake Kurihara, has visited Spain numerous times in search of the perfect recipe for the perfect paella, and has since set his life mission of promoting Spain's national rice dish in the land of the rising sun.
Kurihara participated in an international paella contest alongside 33 other teams in Valencia last September, and was awarded  fourth place in the competition.
The Valencian rice dish originated in its modern form in the mid 19th century on the east coast of Spain, and is regarded as one of its identifying symbols.
Although many view the savoury meal as Spain's national dish, most Spaniards consider it to be a regional Valencian dish.
The funds raised are expected to be used to help pay for the recovery of the eastern  Japanese regions affected by the 2011 earthquake and tsunami.