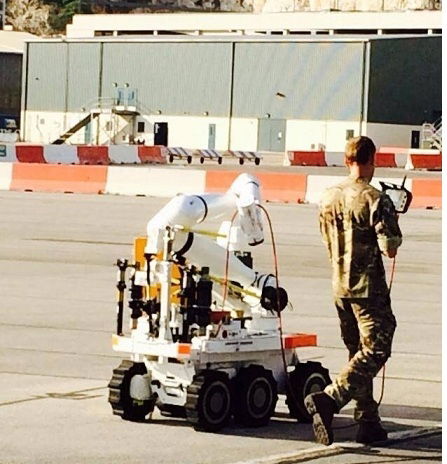 THOUSANDS of cross-border workers could not cross the Spain-Gibraltar border this morning after a bomb scare on the Rock.
A suspicious bag was spotted by local police at 7.40am at the northern end of the airport runway and the Royal Gibraltar Police was immediately alerted.
The area was closed off and no cars or pedestrians were allowed near. In addition, the runway was effectively closed.
The closure brought traffic to a standstill at what is usually a busy time of day.
A specialised counter-IED team later arrived on the scene to detonate the alleged bomb. IED stands for improvised explosive device and it refers to any homemade bomb built and deployed in a non-conventional military form.
The runway could only be opened an hour later at 9am, after the explosive device had been detonated and it no longer posed a threat.
No further details have been disclosed so far as to what the bag exactly contained. However, Police Superintendent Richard Uilger said more information would be made public when a report on the incident became available.
Though there are no official figures regarding the number of workers that were retained at the frontier, it is estimated that close to 7,000 Spaniards work in Gibraltar as full-time employees, while 3,000 more have temporary jobs on the Rock.