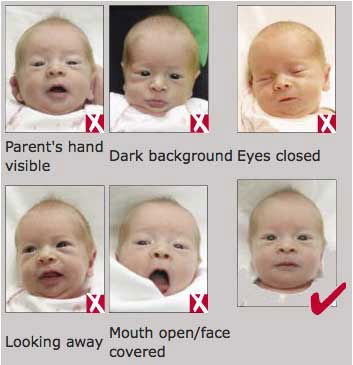 Mother Emma Mitchell from Inchinnan, Renfrewshire, has criticised the British Passport Office after it took over five hours to get a useable photo for her six week old baby's passport.
Newborn Lucas is due to fly to Costa Del Sol in August with parents Emma Mitchell and Graeme Thursby. 
The 29-year-old mother had hired a professional photographer, but as the passport office only accepts pictures with the subject looking directly at the camera, with a straight face and both ears visible, the photo session soon turned into an all day marathon.
Miss Mitchell, a company administrator said: "My hands couldn't be in it at all. I was holding him at the waist and I was scared that his neck was getting sore. I think the rules are ridiculous. They are too constraining. But I'm not the first and I certainly won't be the last parent to struggle with this. I just hope his passport comes on time."
The family paid a £90 fee for their baby's passport, but it's likely that the application form and the photo have joined a massive queue waiting for processing as there are reportedly 500,000 passports in a backlog.
It was revealed last week that the Passport Office has asked the Home Office for hundreds of extra staff in order to cope with the unusual backlog of applications.
Passport extensions for distressed Brits