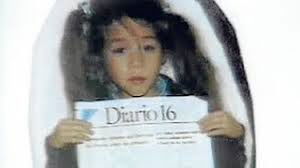 THE funeral of Raymond Nakachian who hit the headlines when his five year old daughter was kidnapped for 11 days in 1987, was due to take place today.
The Lebanese born businessman, 82, passed away after a long illness at his Estepona home on Monday.
His name became known around the world when his little girl Melodie was abducted by a French gang at gunpoint. Her brother had been taking her to school at Aloha college, Marbella at the time. The gang threatened to kill Melodie if a ransom of €9.5 million was not paid. The negotiations with the kidnappers kept public interest high, especially in Spain where kidnappings were rare. Tapes of her pleading for her freedom were released daily and aired on TV and radio. Police advised Nakachian to stall the kidnappers while they attempted to gather information. This he did, and being a canny businessman with experience in kidnappings – he had paid a ransom previously to have two daughters by a previous marriage freed – he negotiated them down to €1.5million within a few days.
In the end it was pure luck and sheer carelessness that gave the gang away and led to the rescue of Melodie. A woman spotted a wallet fall out of the pocket of a jogger in Torremolinos, but she was unable to catch up with him to give it back. So she handed it over to a priest who passed it on to police. Inside they found a ransom note.
Information gleaned from the wallet led police to the gang's hideout in San Roque. They arrived and rescued Melodie just three hours after Nakachian had agreed to pay the ransom. They arrested a French woman and man as well as a Spanish man at the flat. The woman was shot and wounded during the rescue as she tried to use Melodie as a human shield, said police.
Eventually 17 people were found guilty on charges related to the kidnapping. The mother of a school friend of Melodie's was sentenced to 12 years in jail for supplying the gang with information.
Nakachian's funeral was due to be held today (Thursday) in Estepona. Melodie flew over from her American home to pay her last respects to the father who had been willing to pay €1.5million for her release.  Now 32 she works as a child psychologist, perhaps having gained an insight into childhood trauma from her experiences.  She returned regularly to the Costa del Sol to see her father and  Korean born pop-opera singer mother Kimera
At the time of the kidnapping Nakachian was a familiar face on the Marbella social scene, but afterwards he preferred a quieter family life. Neighbours at the Estepona urbanisation he lived on said he kept himself to himself, though was always friendly.