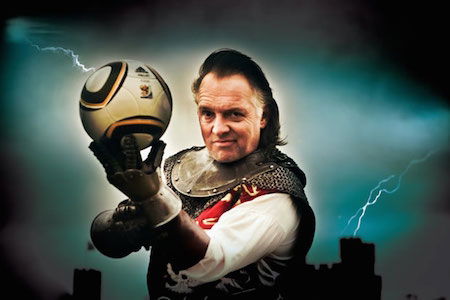 Following the sudden death of comedian Rik Mayall on Monday, an organised campaign on social media sites has aided his World Cup single, Noble England, had reached No 3 in iTunes music chart on Wednesday evening, and it's expected to become the official anthem for theEngland Squad during the World Cup.
The 56-year-olds' legion of fans, including Rock DJ John Morter told BBC Radio 5 Live's Breakfast: "We're just big fans and we really want to give him a great send off."
The cult star, who had three children and found fame playing poetry writing anarchist Rick in the alternative comedy TV series 'The Young Ones,' suffered anacute cardiac event following a usual run according to his wife, Barbara Mayall, who also thanked the press for their discretion, and the thousands andthousandsof messages of condolences received from around the world.
Mayall's daughter Bonnie also paid tribute to his late father in a statement released on Thursday: "the man, the myth, the legend – my wonderful, generous, foul-mouthed and hysterical father. My idol now and forever."
A post-mortem examination is expected to be carried out soon, according to the West London Coroner's court.
Comedian Rik Mayall dies aged 56