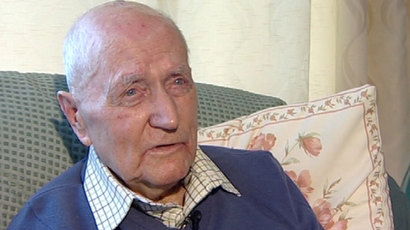 A British WWII veteran will take part in a D-Day landings recreation today (Thursday) to mark the70th anniversary of the historic day. Jock Hutton, 89, will relive his experience of the momentous D-Day landings in 1944 by parachuting into the same field in France that he landed in 70 years ago.
Scotsman Mr Hutton will be joining over 300 soldiers from the UK, US, Canada and the US who are taking part in the parachute jump later today to mark the anniversary.
The troops will land in the Normandy village of Ranville, which was the first place to be liberated on D-Day.
Mr Hutton told UK newspaper The Telegraph: "Should be cushy. All I have to do is put my feet up."
The event – which will see Mr Hutton jump as part of the first wave while strapped to a current Red Devils parachute member – will be watched by Prince Charles and senior military figures.
The parachute display will be followed by a fly-by of two Spitfires and a Lancaster Bomber from the Battle of Britain Memorial flight.
Hundreds of troops will parachute out of a Dakota aircraft to make up the main descent and this evening coordinated fireworks displays will light up the D-Day beaches.
Prime Minister David Cameron is set to attend a midnight vigil at Pegasus Bridge to mark the moment the first soldiers landed in France in the early hours of June 6, 1944, to capture the strategic landmark.
At Café Gondrée, the first building to be liberated next to the bridge, glasses will be raised in a symbolic champagne toast.
Tomorrow's events will include a Bayeaux Cathedral memorial service which will be attended by a wealth of dignitaries including the Queen, US President Barack Obama, France's President Francois Hollande and Russia's President Vladimir Putin.
Related Stories: