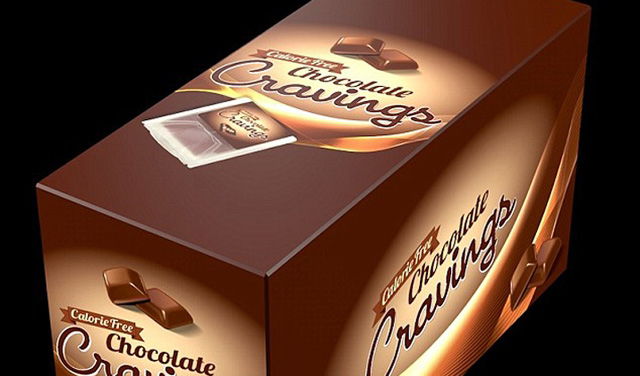 Calling all chocoholics! If you want to savour the flavour of chocolate – but don't want the extra calories – then a new product may be right up your street. One clever inventor has come up with a Listerine Strip-type product called Cravings, which tastes of delicious milk chocolate but contains no sugar and, more importantly,  absolutely no calories.
The makers of the product claim it will help dieters satisfy their chocolate cravings without any guilt.
Creator of the Kickstarter product Ian Goldfarb said: "Every pack has 24 strips; you pull one strip and let it dissolve in your mouth for a blast of flavour.
"It's not a new technology, edible film has been around a long time, but we will be repurposing it using flavours we crave. This is where the fun begins."
The product works by tricking the body into believing that you've enjoyed a sweet treat, when really you've only had a guilt-free taste.
The product – which comes in a pack of 24 strips and is set to retail for less than £6 – could be hitting shelves soon if creator Goldfarb manages to reach his £24,000 fundraising target.
Goldfarb said: "For years I've been following the standard regiments of working out and watching what I eat, but I've always felt like something was missing. I constantly get cravings that lead to binge eating sessions… and then I counteract a full week of healthy diet and exercise.
"I discovered a possible solution some years ago in Listerine Strips. It's an edible film flavoured for consumers. 
"After doing some research, I discovered that adding flavours to this edible film is a relatively simple process, and there are several flavour development companies. I also discovered that it is possible to create zero calorie edible film with the flavours of sweets, meats, breads, salty snacks, or anything we desire.
"After selecting our medium for craving suppression the next step was to decide the flavour," he said.
"This was a fun but overall painful process to narrow down the selection of tasty flavours. Research doesn't lie, and in the end, chocolate was the winner."
For more information see: kickstarter.com/projects/2077077993/cravings-the-zero-calorie-chocolate