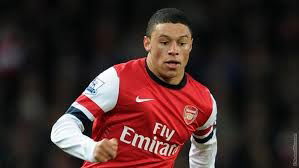 England played Ecuador in Miami, Florida, yesterday (Wednesday) in a World Cup friendly at the Sun Life Stadium ahead of the highly-anticipated Brazil tournament. The Three Lions managed a draw but Hodgson suffered a blow when player Alex Oxlade-Chamberlain picked up an injury. 
It was a surprising lead for Ecuador when Enner Valencia scored within the first ten minutes, leaving England holding their breath until Rooney equalized at 29'' with a goal set up by Oxlade-Chamberlain.
Rooney was not playing at his best (despite the early goal, his 11th in 18 outings) in an unfamiliar position. There has also been speculation that his fitness is not at top-form.
However, Hodgson said after the match: "I thought Wayne Rooney played very, very well. I thought it was a very good game. I was disappointed with the sendings-off, and the potential injury to one of our players, but as a friendly, a warm-up match for our players, it was good."
At 51 minutes in, Lambert got in a second goal for England, forcing Ecuador to work harder as they battled to triumph.
Ecuador's Michael Arroyo scored a brilliant goal just two minutes after coming on to level for his team in the 70th minute.
There was some drama on the pitch when two players – Raheem Sterling and Antonio Valencia – were sent off following a clash. The Ecuadorian Valencia reacted to the Liverpool player Sterling's sliding tackle.
Oxlade-Chamberlain, who was playing brilliantly (although not to the best of his abilities defensively), sustained a knee injury and had to be substituted. The player is undergoing scans today – but is not expected to play in the next match.
Hodgson made a few surprise inclusions for the game, most notably Jon Flanagan and John Stones, leaving many to wonder about his strategy for the pending World Cup.
On Saturday England face Honduras in what will be their final warm-up match.