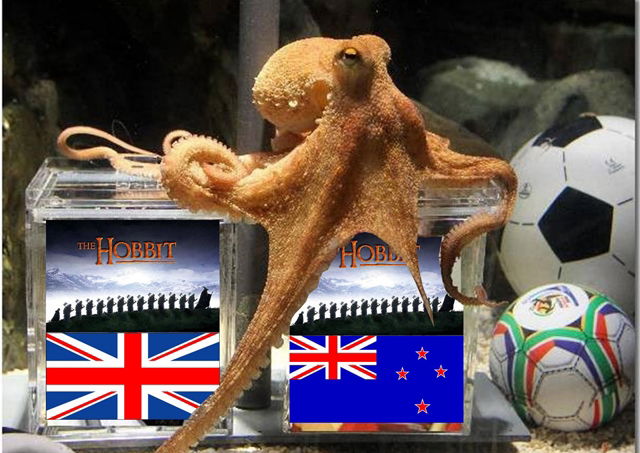 With 2014's Brazil World Cup just around the corner many are contemplating which country will be taking the coveted trophy home. And some have already started placing their bets after coming up with what they hope will be the winning formula to predict the victorious team.
Let's take a look at some of the more unconventional ways to guess the champions:
The maths genius formula:
Physicist Professor Stephen Hawking has studied England's past performances to come up with an equation for the team's chances.
Hawking has concluded that the Three Lions are more likely to triumph after short-haul flights when the temperatures are low and the games kick off at a familiar 3pm.
With England facing a 5,000-mile flight to a country expecting 30C weather and games at 6pm, 4pm and 1pm it doesn't look good for us this year!
The octopus oracle:
During 2010's World Cup there was one clear star: Paul the Octopus. At the Sea Life Centre in Oberhausen, the Bournemouth-born octopus was presented with two boxes, each emblazoned with a nation's flag.
Paul, who sadly died later that year, chose the winner in all seven of Germany's matches and also called a Spain win over Holland in the final.
Other animals such as a parakeet and a fish named Koi Hodgson have tried to replicate Paul's psychic success, but to no avail.
The Simpsons supposition:
Following a successful 2005 prediction of the Super Bowl winner, hit TV programme The Simpsons are trying their luck again – this time with the World Cup. A one-off special produced earlier this year has it that Germany and host nation Brazil will make it to the final, with the European team triumphing 2-0.
The financial institution:
Financial institution Goldman Sachs has been predicting World Cup results since 1998 – although not all that successfully, it must be noted.
The company argues that the winner can be determined ahead-of-time by looking at how countries are performing in the global markets.
This year Goldman Sachs thinks that Brazil, Germany, Argentina and Spain will make the semi-finals – and fair play, all four teams have outstanding players at the moment, and a good chance to reach the semis.
They've given England a 1.4% chance of lifting the trophy. However, they haven't been off-target in the past so maybe Hodgson and team don't need to cry bawl (or should that be ball?!) their eyes out yet…
The weather forecasters:
England manager Roy Hodgson has already expressed concerns about the Brazil heat, which could pose a problem for our Blighty boys.
University of Reading Climate scientists have said there is a 60% chance of El Niño conditions in Brazil this summer.
This would "increase the risk of uncomfortably hot and dry conditions" during the tournament – a massive disadvantage to European teams used to playing in cooler conditions.