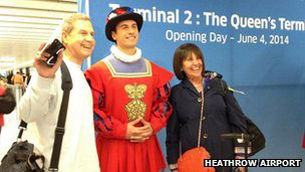 The brand new Spanish-designed Heathrow Terminal 2 building celebrated its first flight this morning (Wednesday). The €3 billion terminal building was christened shortly before 6am GMT with the arrival of a United Airlines flight from Chicago.
The terminal's Madrid-based architect Luis Vidal was on board the flight as he wanted to see its first day in operation for himself.  
The terminal, which was seven years in the making, has an annual capacity of 20 million passengers and replaces the 1955 original.
Terminal 2, which was built by Spain's Ferrovial, which indirectly owns 33% of the massive airport, is further evidence of Spain's position as a strong leader in the infrastructure sector.
Today only 17 flights were scheduled to depart from the new terminal. Airport authorities were keen to avoid the Heathrow Terminal 5 opening debacle in 2008.
At the 2005 opening the baggage handling system collapsed, leaving passengers waiting around for luggage and information.