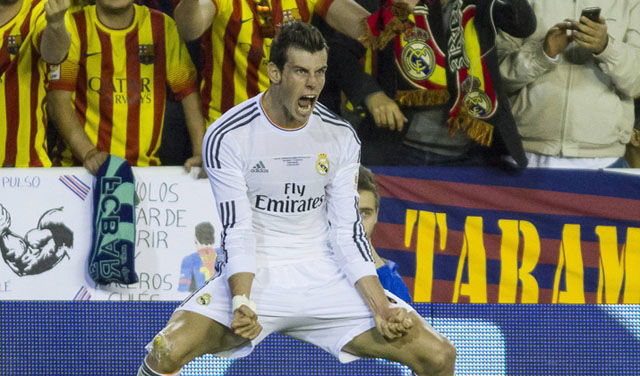 A new study has revealed Europe's top 10 most over-valued football players. Real Madrid's Gareth Bale, 24, tops the list. The Spanish club paid a whopping £80million to secure the player's move from Tottenham but experts have said that Real overpaid by an eye-watering £30m.
According to experts at the Swiss-based CIES Football Observatory Bale – who has helped his team win the Champions League and the Copa del Rey in his first season at the Bernabeu – is actually worth 50.9m.
The researchers have placed 'market values' on top Europe players based on a wide range of 'objective' factors from age and contract expiry date to position, performance data and international experience.
The CIES report concludes that Welshman Bale was the 'worst recruitment' from a purely financial perspective last season of any player at a club in the top divisions across England, Spain, Italy, Germany and France.
Second in the list is Radamel Falcao of Monaco, who is 'worth' £25.6m less than his club paid for him. 
Real Madrid's Illarramendi comes in third place for worst value. The player is worth £10.1m but the club paid £26m for him.
According to the study, the 'best buy' of last season was German striker Max Kruse, 26. Borussia Monchengladbach signed him for a bargain fee of €2m from Freiburg. Since the move his value has shot up. 
The top 10 over-valued list is:
1. Gareth Bale
2. Radamel Falcao
3. Asier Illarramendi
4. Erik Lamela
5. Marouane Fellaini
6. Yohan Cabaye
7. Fernandinho
8. Edinson Cavani
9. Willian
10. Roberto Soldado